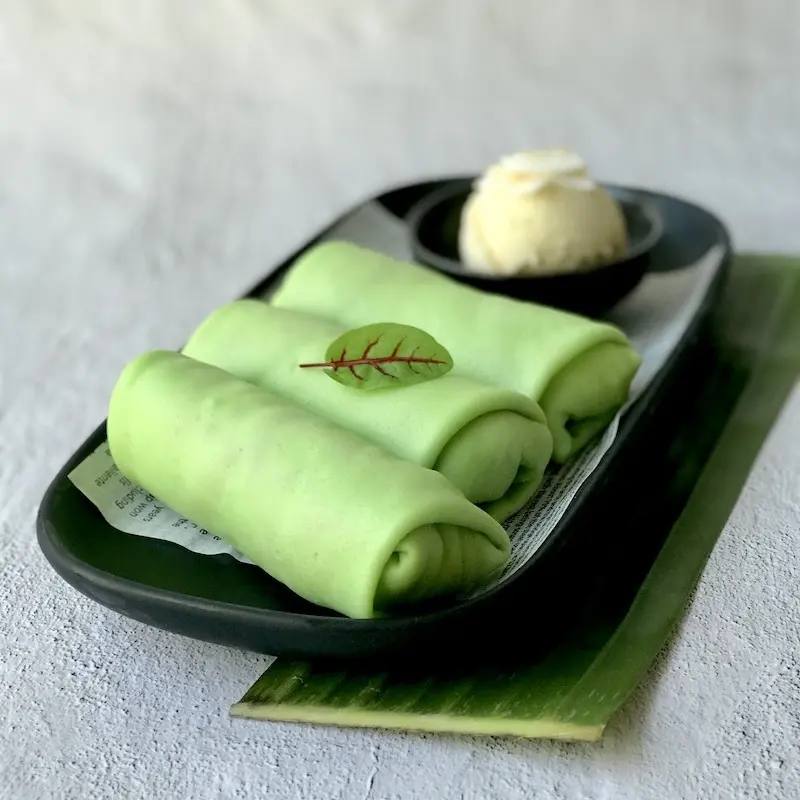 Pandan flavouring
To taste (few drops)
Butter (for cooking)
1 tsp
Add flour and salt into a large bowl. Add in milk and whisk to combine. Add in whisked eggs and butter and mix together to arrive at a smooth batter. If there are lumps in your batter, it is better to strain it through a sieve rather than over working your batter to try and remove them. Set aside for 30 minutes.

Heat a non-stick pan and add 1 tsp butter. Swirl the butter around the pan to coat then wipe off with kitchen paper.

Pour enough batter into the pan to lightly coat the bottom. Allow the crepe to cook on low heat until the batter turns completely opaque and is cooked through. There's no need to flip it. Once the crepe is cooked, it will slide around the pan and release. Slide the crepe onto a plate and continue making your crepes until all the batter is used up. There is no need to butter your pan after the first crepe. Stack crepes flat on top of each other as you are cooking them.

Allow crepes to cool before filling/assembling.