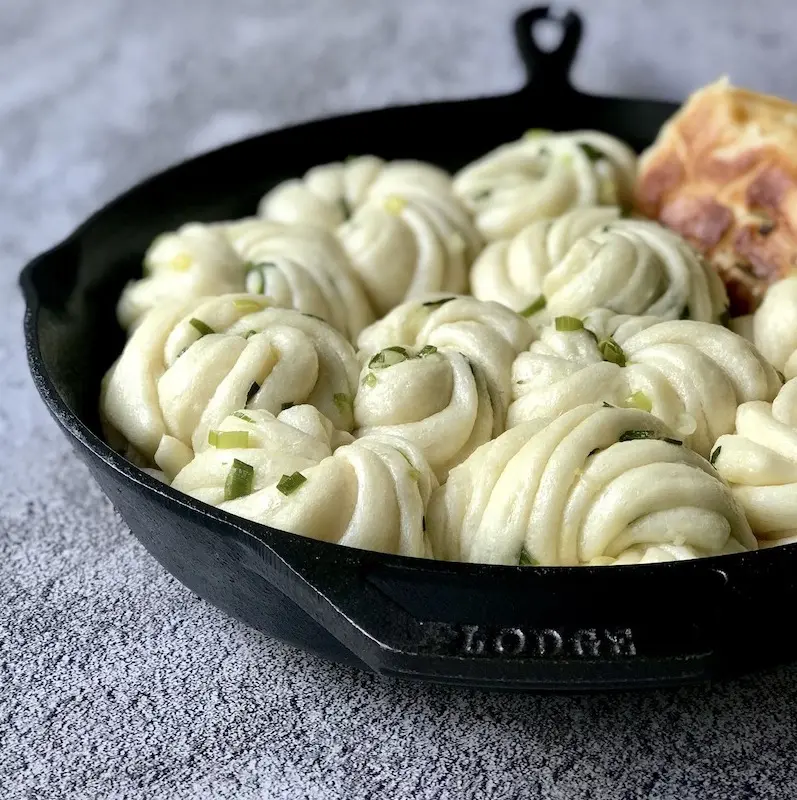 Prepare the Dough and Oil
1. Add yeast, sugar and 250mL water to bowl and mix to combine. Leave for 10 mins until bubbles form.
2. Meanwhile, add the flour to the bowl of your stand mixer fitted with the dough hook attachment. Make a well in the centre and pour in the yeast mixture. Mix on the lowest speed for 10 minutes. Form dough into a ball and place in an oiled bowl. Cover and set aside for 2 hours.
3. Meanwhile, make the oil filling. Add the spring onions, Chinese five spice and salt into a heat proof bowl. Heat oil in a small pot/pan until smoking then pour into the bowl. Carefully mix to distribute flavours and set aside to cool completely.
4. After 2 hours, turn your dough onto a lightly floured work surface. Roll it out to approx. 2cm thickness. Dissolve baking powder and 2 tsp water in a small bowl then pour into the centre of the dough. Fold in the sides and knead through for about 2 mins or until smooth.
Shape the Dough
5. Roll dough into a large 20cm x 30cm rectangle. Brush on the seasoned oil mix (you may not need all of it. Gently mark the dough to divide it into three long strips. Fold the end pieces of the dough into the centre along the marked lines. You should end up with 3 layers of dough, stacked/folded on top of each other. Cut into 12 slices.
6. Take one strip. Using a chopstick, press down along the length/centre of the strip. Stretch the strip to double in length. Drape the strip of dough over the chopstick. Pinch the enda closed with one hand while twisting the dough with the chopstick in the other. Place the twisted dough over the punched ends to cover. Lightly press down with your chopstick and slide it out. Repeat to shape the remaining buns
Cook the Buns
7. Heat 1-2T oil into a large 12" cast iron/non-stick skillet. Place in rolls. When the rolls start to brown, add in 200mL water. Cover with a lid and allow buns to steam on med heat until all the water has almost evaporated. Uncover and allow the water to fully evaporate and the buns to take on more colour for another minute or so.
Serve warm.